AusweisApp2 is a software that you install on your smartphone, computer or tablet in order to read out your ID card and to be able to identify yourself digitally. In addition, AusweisApp2 enables encrypted data exchange between the ID card and the online service where you want to identify yourself.
Depending on your operating system, select the appropriate download and install AusweisApp2 on your computer, smartphone or tablet.
Supported systems: Android 7.0 or higher, iOS 13.0 or higher, macOS 10.15 or higher, Windows 10 (64 Bit) and 11
The eID function enables you to identify yourself securely on the Internet. Whether you are using government services, opening a customer account, or submitting your BAföG application - with the eID function, you can do everything easily, quickly, and securely from home.
To make it as easy as possible for you to use the eID function and AusweisApp2, you can find an overview of some video tutorials here.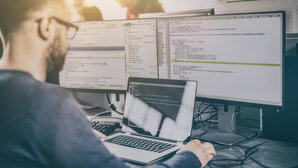 AusweisApp2 is an open source software. Under the EUPL license, interested developers can get the original source code, duplicate it, develop it further, program optimizations and make them available to the community again.