AusweisApp is a software that you install on your smartphone, computer or tablet in order to read out your ID card and to be able to identify yourself digitally. In addition, AusweisApp enables encrypted data exchange between the ID card and the online service where you want to identify yourself.
Depending on your operating system, select the appropriate download and install AusweisApp on your computer, smartphone or tablet.
Supported systems: Android 8.0 or higher, iOS 14.0 or higher, macOS 11.0 or higher, Windows 10 (64 Bit) and 11
Note: New name, new look - the AusweisApp2 becomes the AusweisApp! As part of the rebranding of the AusweisApp, the 2 in the name has gone, but there is a fresh, new design on top. What you can still rely on: You can still use the ID card app to securely identify yourself online.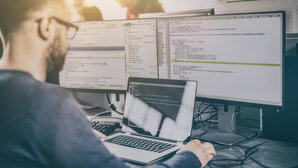 AusweisApp is an open source software. Under the EUPL license, interested developers can get the original source code, duplicate it, develop it further, program optimizations and make them available to the community again.